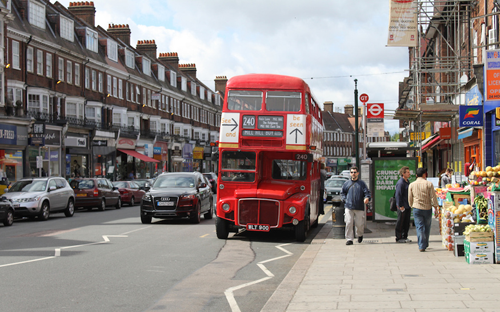 Golders Green is an area in the Borough of Barnet in London, located 5.5 miles to the North West from Charing Cross and 7 miles from Victoria. Historically, Golders Green formed part of Middlesex, but expanded rapidly at the start of the 20th century when a tube station opened next to the Hippodrome.
Known for its predominately Jewish population, the area attracts many Jewish tourists looking for kosher items, as it is home to the largest Jewish kosher hub in the UK.
With there being many Jewish residents in Golders Green, it is not a lively area for late night clubbing, but you will find some fabulously themed pubs, and also a great choice of restaurants selling food from all over the planet, including but not limited to: Kosher, Thai, Indian, Chinese, Italian and Korean. There are also some excellent coffee shops in the area, serving perfectly brewed coffee at all strengths, along with flaky freshly baked pastries and bagels.
Due to the busy shopping street, Golders Green Road, there is really no need to travel into West London for anything if you live in this part of London – you have everything you need on your doorstep. There is even a busy central bus station where National Express coaches stop on their way into and from central London, so you have access to most of the UK from your Golders Green doorstep.
Housing Stock
The area has a wide variety of housing stock, much of which features the fabulous high ceilings London property is famous for, but due to the extremely privileged location of this area, the price of housing is at a premium. We have converted hundreds of lofts in Golders Green as it is the most obvious solution for homeowners who don't want to move to another area, but who need more space and are limited in choice due to lack of affordable larger housing available in this area.
Why Choose Touchstone for a Golder's Green Loft Conversion
We will carry out a free no obligation primary survey on your home so we can give you an accurate quote and advise you on the best type of extension. We offer a clear breakdown of the costs involved with each individual Golders Green loft conversion as we expect you to shop around; this is common sense. If you choose us as your loft conversion contractor, the price we quoted you at the start will remain fixed.
Because we are loft conversion specialists and not general builders, we can provide an all in one loft service. Our skilled in-house workers oversee the entire process from the design at to the final fixture fittings, which means you will not have to deal with various tradesmen at different stages of the project. It also means you won't have the hassle of applying for any paperwork that may be needed from the local council by yourself, as Touchstone can take care of this on your behalf.
Our prices are very competitive, and our work is top-notch. We have testimonials from clients on file should you want to know more about our previous works, and we are proud to say that 7/10 of our customers currently come to us as a direct referral from a previous client.
Contact us today via our contact form, or give us a call on 0800 881 8194 and our friendly staff will arrange a no-obligation free survey of your property at a suitable time.